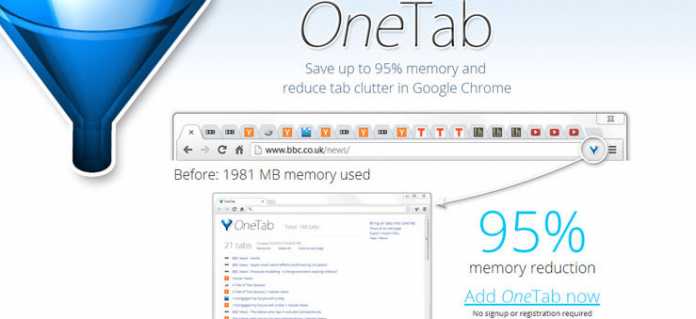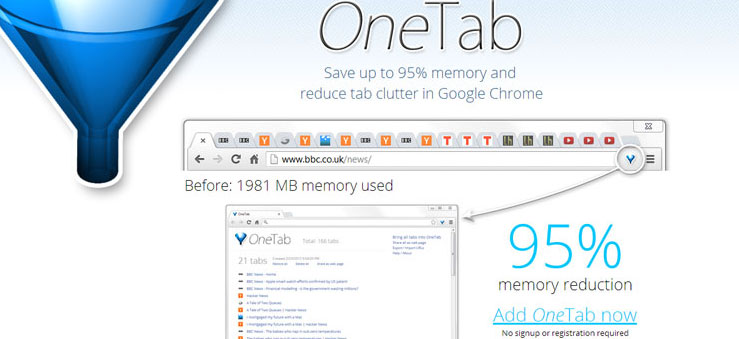 OneTab is one of the widely used Chrome extension to organise the tabs on Chrome. The extension is out there in the Chrome web store for the last couple of months. If you are not using it, take a look at it. You can count it one among the top Google Chrome plugins. As the name suggests this plugin summarise all Chrome tabs into a single tab list.
How

OneTab

 is useful in Chrome?
Lots of tabs are opened? Click on the extension icon on the address bar. The extension closes all the tabs and on a new tab you can see all of your opened tabs as a list of links. Click on the links to restore tabs one by one. Several tabs grouped into a tab list, does it make any sense? See the advantages when you summarise all Chrome tabs into a single tab list using OneTab.
What are the advantages of

OneTab

 on Google Chrome?
The core purpose of this Chrome plugin is to avoid the clutter by closing all the opened tabs into a single tab.
When too many tabs are opened you may have to open each and every page to find the content you are looking. It avoids that.
Another notable benefit of this plugin, as per OneTab team, is it reduces memory usage. They boast that the extension saves up to 95% memory on Chrome!
How to install

OneTab

 extension on Chrome?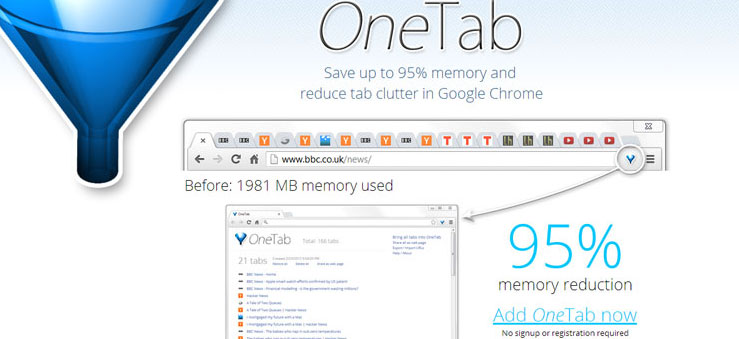 How to Use

OneTab to Summarise All Chrome Tabs into a Single Tab List

?
Go the extension download page on the Chrome web store here. If you are first to OneTab, you can see the "Free" button there. Click it to install this one of the most useful Chrome extensions. Once installed or you are already using this extension, you can see the "Added to Chrome" button instead.
Whenever you want to summarise all Chrome tabs into a single tab list, just click the extension icon. The icon normally appears just right to the address bar on Chrome. It's just one click away to summarise tabs in Chrome.
What are the other useful features in

OneTab

?
If you want, you can share your Chrome tabs by publishing as a web page. Other sharing options are export URL and import URL. All these features you can find once you organise your Chrome Tabs using this one of the popular Chrome extensions.
How you rate this one of the best Chrome tab manager? Like to see your views in the comments.