Honestly speaking I am not familiar with sig codes and never tried to understand it. A new capability in the computational knowledge engine Wolfram Alpha inspired me to try to learn what it really is. Sig codes are the abbreviations doctors commonly used in their prescriptions. Yep! It is the abbreviations of some Latin words. Your pharmacist can easily understand the sig codes. Now you can also understand what are those abbreviations in your prescription. Search on Wolfram Alpha to learn sig codes in your medical prescription.
How to Search on Wolfram Alpha to find Sig Codes
Stpes:
Go to Wolfram Alpha home page
Search "sig code aa" without quotes.
You can get the result of the sig code aa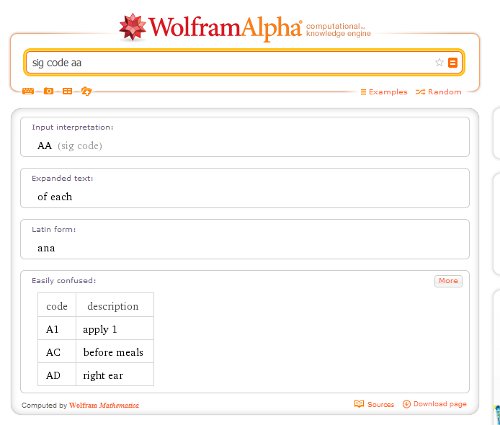 Similarly you can put any sig code in the above format and get the details.