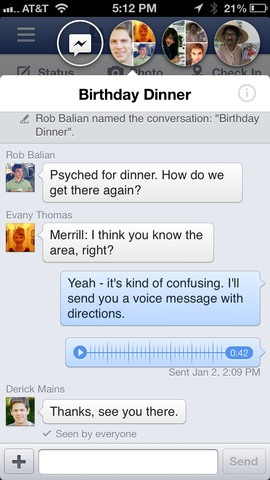 Update your Facebook iOS app to get the new Chat Heads feature that already available for android users. Chat Heads on Android are very useful as it allow Facebook users to connect with their friends from anywhere on their phone. No need to be in Facebook to enter on a chat. But the same thing on iOS is not possible. Chat Heads are there but the functionality is limited to work inside Facebook only. It is due to the iOS apps working environment called sandbox. It's a security feature. But if you are using a jailbroken iPhone then there is tweak coming to use the new Facebook feature just like on android. It may be available as tweak on  jailbreak app store Cydia in the coming days. See what are the new features in Facebook 6 below.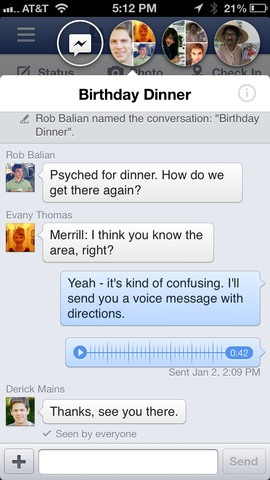 Facebook 6 for iOS new Features
First and foremost the Chat heads that allow you to keep chatting from anywhere in the app
Ability to send stickers to bring your messages to life
The above two are the core features in new Facebook 6 app for iPhone and iPad. These features will be available to everyone in the coming weeks.
Download : Facebook 6 for iOS
Chat Heads are really going to change the way you are using Facebook on android. It is available anywhere from the phone. This is the major difference of Chat Heads on iOS and Android. But wait for the tweak and if you are a lucky jailbroken iPhone owner, you can use Chat Heads on iPhone just like on Android.
Share your views about Chat Heads in the comments.