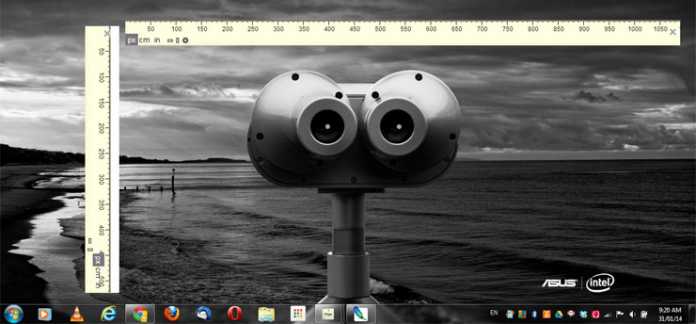 Want to measure things on your computer in pixels, centimetre or inches. Then here is a handy packaged app for Google Chrome users. The app is called Edge that can be launched above any of the opened tabs, windows and even on your desktop or other app screen. The app provides multiple vertical and horizontal rulers that are customizable to the required size.
Why this Chrome Measuring Tool is Different?
Edge is useful because of its native app like performance, i.e. it works flawlessly on top of any opened windows or desktop once it launched from the Chrome App Launcher.
How to Measure Things on Your Computer Screen
The measurement can be changed easily from the ruler interface itself. Open multiple horizontal and vertical rulers are also possible. Just click on the vertical or horizontal small icons on the ruler to get additional ruler. The ruler is always active on the Windows task bar and can be launched from there on top of any windows.
Before using Edge to measure in inches or centimetres do calibrate it first. It can also be done from the ruler interface itself. Click the inches or centimetre label and put the diagonal screen size of your computer screen.
Similar Reading: Top Ten Chrome Plugins
Conclusion:
Edge is another useful Chrome app that is simple and yet easy to use. It feels better as it is a packaged app and works on top of any Windows.
Recently I reduced writing tutorials on Chrome plugins, as many of the plugins disappear after an initial hype. So It's becoming a headache for me to find the broken links on my blog posts to ensure better user experience. So when you find any link which is not working please do notify me in comments. I'll take care to remove it and if possible post an alternative.