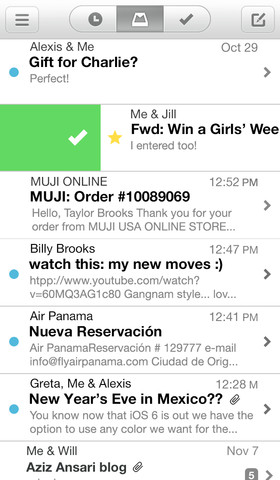 Mailbox is a free iPhone app that lets you manage your Gmail Inbox effectively. It makes fun to use your Gmail inbox. With few long and shot swipes you can manage your inbox. Reorder, snooze, trash,  archive, and compose messages quickly in Gmail with this free and popular iPhone app. Mailbox enables you to make your Gmail experience fun and fast. How?
On Mailbox you can see your Gmail Inbox mails in separate cells or rows. Simple swipe of any cells (mail) to the right side of the screen will put the mail into archive. A long swipe or further swipe, of the message will make the message trashed. Getting confused? watch the video below.
Sometimes you may need to postponed the appearance of certain mails. To snooze any mail just swipe the relevant cell to the left. You will see the option to do it. Your snoozed mail will bounce back to your inbox at the your preset time.
With Mailbox you can make your Gmail inbox to Zero. It's an awesome experience. Just check the button at the bottom side of your screen labelled "Help me get to zero". Same way you can batch archive your mails if the number of mails are relatively small. Just use the bar at the bottom of the list and swipe to right.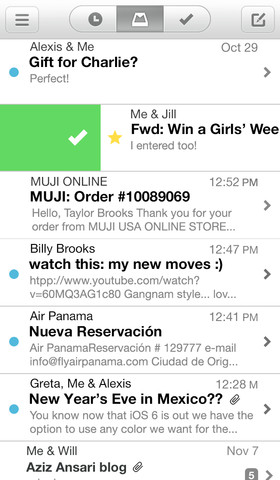 How to find the archived mail on your Gmail? You can't find any label named as "Archieve" on native Gmail client. Find and click "All mail" label to find your archived mail. Mailbox supports multiple Gmail accounts. At present this trendy app only supports Gmail. Android fans has to wait for the apps arrival on the Google Play.
Download : Mailbox for iPhone
You can use Mailbox to quickly manage your Gamil inbox. Check it and share your views below.