Will you get panic if you forgot your android Smarphone on your home one day? If you, then continue to read on. I am going to introduce you a very useful app for you. Here is a unique android app that serves just one purpose. What's it? Get missed phone call details in your Email Inbox. I never think that this is a must have app for all. But a useful app that will come in handy at least for some people.
For example, for a business person, forgetting the office phone at home is drastic as it affects the business of that day. He may miss lots of vital calls from customers. What is the solution? If he has any solution to get the miss call number, then he can call back to that number.
Here comes IFM, a new Android app handy. Get miss call details as an email message. I Forgot Mobile aka IFM is very useful for some people. So install it and who knows one day it will become useful for you.
What are the Prerequisites to Get Missed Phone Call Alerts in Email?
Android Phone.
IFM app installed and configured.
Your phone connected to the internet via WiFi or mobile internet.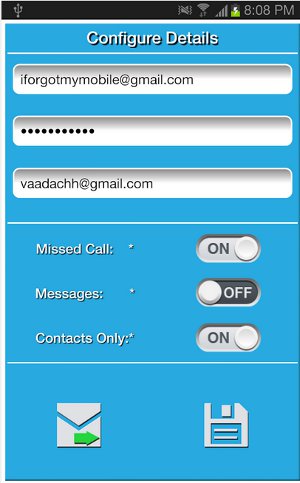 How to Configure IFM on Your Android Phone to Get Miss Call Alert Via Email Message?
Configuring IFM is pretty easy. Make the IFM switch on the app interface "ON". If it is "Off ", then also there is no issue. You can turn the button "ON" with continuously sending two missed calls to your number. But this feature is limited to paid version only. Now enter your email address and set the password. That's it.
I am sure that missed call alert via email is not a must have feature for you. But as I mentioned earlier, this feature may come in handy for some of you with the conditions as mentioned above. As the saying goes precaution is better than cure. So keep this android app installed on your phone. Who knows it will help you one day.