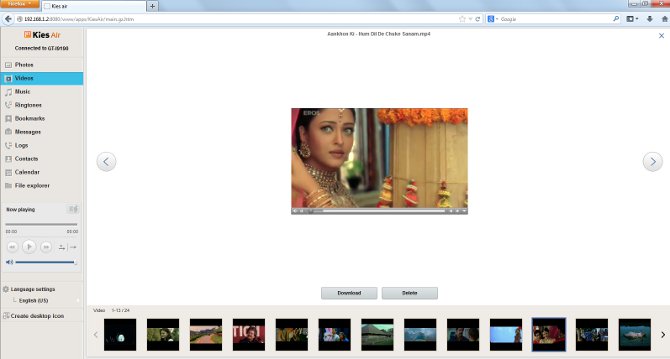 Now-a-days we primarily store music files in our phone memory, no matter whether it is internal or external storage. Because this enable us to watch music on the go. Smart phone screens are bigger enough to enjoy musics on the go. If you are in front of your computer, you can watch the videos from your Android Device to your Computer. No need to hold your smartphone in a comfortable position (I know there are smartphone flip covers that better hold and position your phone on your table). Relax in your chair and enjoy musics.
The process is simple. Neither you required any software download for your computer nor any USB connection. The primary requirement is your phone must have Samsung Kies Air installed. Also your mobile device and the PC or laptop should be connected to the same Wi-Fi network. Hope you already, if you have a Wi-Fi connection in your home.
Kies Air is a free app from Samsung for its Android Smartphones. It can be used to wirelessly manage content on your phone. Just install the app on your phone. No additional set up or setting is required. You only need to tap the "start" button to make a connection possible.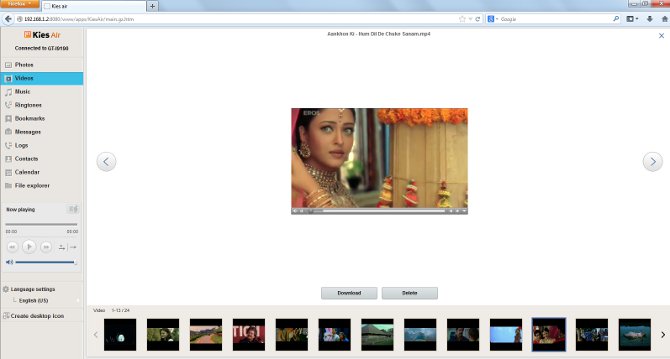 Play Videos from My Android Device to My Computer – How to?
Ensure that you have installed Kies Air on your phone.
Tap Kies Air on your phone to open.
Click Start. Now you will see a URL on the screen.
Now on your computer, open your browser. Type the URL that your already got.
You will get a PIN number on your phone. Enter it on your desktop browser.
Your phone is now connected with your computer wirelessly. Open media files and play it on your PC (not limited to media files though!)
Note:
You will be asked to install / update Java on your computer during the process. Also QuickTime media player may also be required. You will get popup messages to install the same with download link. Video playing depends the browser and the file format. I found Firefox and IE gives better compatibility in playing video files on my PC.
Optional
You can also create Kies Air desktop icon to access it quickly. For this when you see the option on a popup on your computer, click yes and download and install the "sd.jnlp" file on your computer. It creates a Kies Air Shortcut on your computer. This enables you to avoid typing the URL on your computer browser. You only need to put the key received on your phone to start a connection.
Kies Air can be used to easily manage the files on your android phone. You can wirelessly transfer files using Kies Air. Also you can find a Kies Air alternative called AirDroid on Google Play.