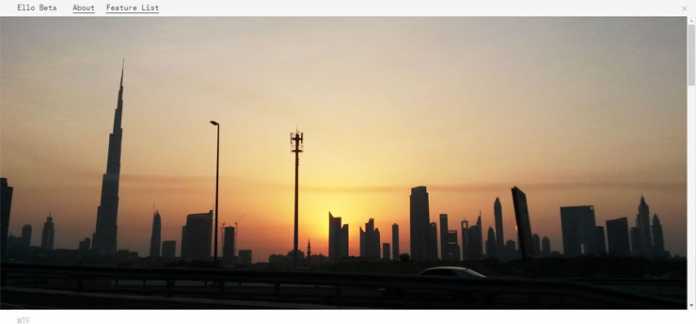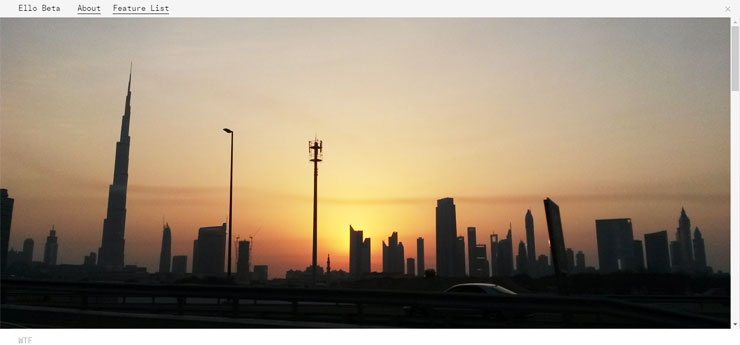 Ello is a new kind of social networking site which distinguish itself from others with its ad free, clutter less User Interface. Unlike others, in Ello, you are not a product, claims the company. The Ello website launched in March 2014 and after a steady slow growth it began to get huge response in September this year. Reports points it's due to facebook's real name policy that irked many including the LGBT community and they might have joined Ello.
Ello never says its anti facebook or anti to any other social networks. But its manifesto says a lot without mentioning the name facebook. Almost all social networks sell user data to facilitate advertisers to show relevant ads. Your every action is tracked. Ello says their policy is crystal clear that they do not show ads or sell user data to anybody even in the wake of a future sale of the company. But users can post videos on Ello, that may contain ads and Ello has no responsibility in showing such ads. You may have seen ads associated with YouTube videos. It's neither beneficial to Ello nor in their control.
Ello is currently on invitation mode. You can visit their homepage HERE and request for an invitation via email by entering your email address. The beta web version of Ello is only available now. They boasts of adding lots of new features and an Android, iOS and Windows phone apps are in the making.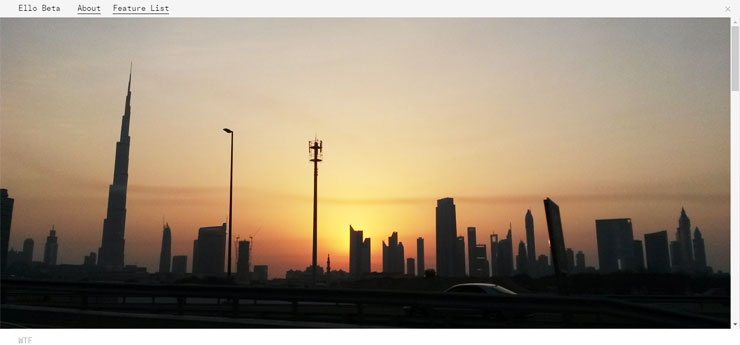 Few of the Indian celebrities are also started appearing on Ello including the Congress Vice President Rajiv Gandhi. But it's difficult to say whether the profiles appearing on Ello are genuine or not. At present it's immature to predict the future of Ello and whether it can live up to the hype it has created and become a real facebook alternative.
In this post we can see how to start using Ello. Even though the interface of Ello is simple and clutter free, a new user will find it difficult to start posting on it. So here we can learn how to use Ello, and it's just a beginner's guide.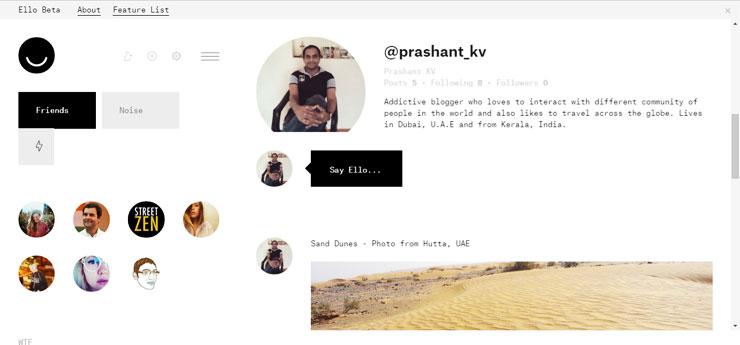 As already mentioned above, one need an Ello invitation to sign in to this new Social Networking site. It will take few days to couple of weeks to get an invitation from Ello after the request. In my case it took almost 3 weeks to get the invitation from Ello.
So you have an Ello account. Sign in using the invitation mail link. After signed in add a cover photo, profile picture and short bio to Ello. Bloggers can also back link their site at Ello that below user bio.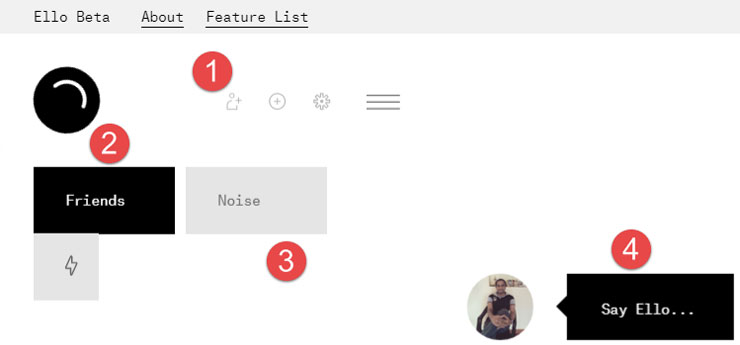 How to Search, Find and Add Friends on Ello?
In the above screenshot see # 1. Click this "Discover" icon to see three tabs labelled "Recommended", "Related" and "Search". Click the "Search" tab and below type the name you are looking for. This way you can find a friend on Ello.
You can add a friend by clicking the friend button next to the friend name that appeared when you search for a friend. There are three buttons. Friend, Noise and a mute button. The last button that is mute button is to block or mute a person in Ello. You can add a person to 2 "Friend" or 3 "Noise". Add fast friends to "Friends" and lesser contacting or unimportant ones to "Noise"
How to Upload Media Files to Ello?
Once again take a look at the above screenshot and this time # 4. Click in the black box. You can see Upload, Cancel and Post icons below the text box that appear. Use the upload button to post media files to Ello.
How to Link a URL in Ello?
Click in the black box. Type any content and then select it. Once selected, you would see a new menu bar showing the options to format the text like bold, italic and an upward arrow which is to hyperlink.
How to Use Emoticons / Emojis in Ello?
Just type a colon : in your post or comment to show a popup containing emojis in Ello.
What is Friends and Noise in Ello?
Read the "How to Search, Find ….." above to get a clear picture about  this feature.
The above is enough for you to post your first update in Ello. As other social sites you will gradually learn more and more about using Ello by your own. Further there are lots of new features coming.
Hope to meet your on Ello. Add me there @prashant_kv.