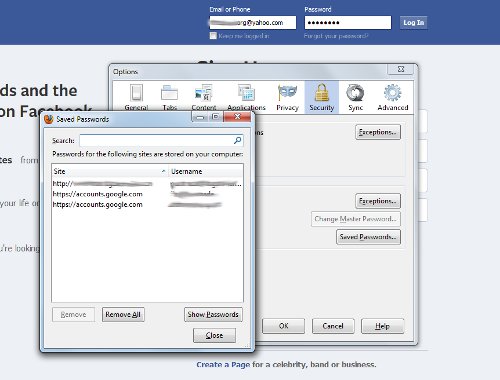 We accidentally save log in details on browsers. Some sites require user account to access personalized services. Facebook, Gmail etc. are the examples for this. We create account on these sites and provide our user name and password to log in whenever we want to access their services. It may already came in to your notice that these sites can can keep you signed in to their services. Means even if you log out and exit from the browser, the next time you need not require to put your log in name as well as password. It automatically appears. Your browser can remember the password. On the log in page on Gmail, under the Password field, you can see an option "Stay signed in". Make a tick mark on this will enable your browser to remember your Gmail log in details. On Facebook the option is "Keep me logged in". When you access your such accounts from others PCs and you forgot to remove the tick mark, anyone using that computer can next time exploit you.
I have seen extension on Firefox to auto log out from your account if it is inactive for a specific time or if you quit the browser. I checked it and found that it is not stable. If you are not sure that you have saved the passwords or not on any others PC, before quitting the browser just clear the saved passwords. It is easy to remove saved passwords or log in details on Firefox and Chrome.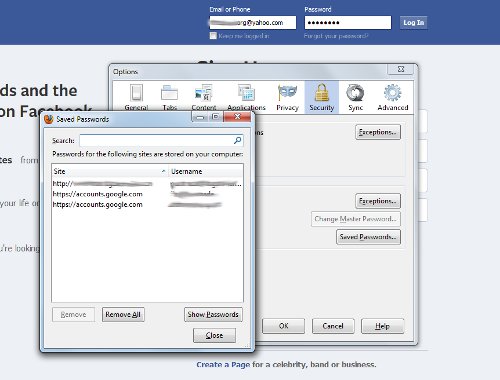 How to Delete Saved Passwords on Firefox
As you may already know I like shortcut keys. So we will use shortcut keys to remove saved passwords on both Firefox and Chrome.
Steps:
Use Alt+T+O which is the shortcut key to access Options windows in Firefox.
Under Security tab click on "Saved Passwords". You can see all the passwords saved by Firefox there. Click on the URL relevant to your account and "Remove".
How to Delete Saved Passwords on Google Chrome
Deleting saved passwords on Google Chrome is child's play.
Use the shortcut key Ctrl+Shift+Delete to open the "Clear Browsing Data" tab.
Make sure that there is a tick mark against "Clear saved passwords". Then click on the "Clear browsing data" button.
Wait… It will remove all the saved passwords on Chrome. So on the top on the same Clear Browsing Data window, from the drop down menu set the time period to "last one hour".
This is the quickest way to remove saved passwords from Chrome. If you want to see all the saved passwords on Chrome and individually delete the passwords, just like we have done on Firefox above, follow the below tips.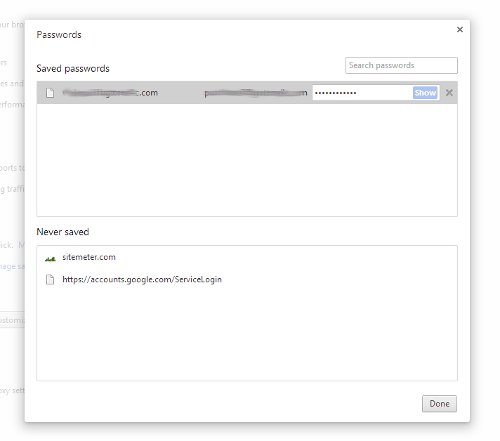 Go to Chrome Menu on Toolbar and select "Settings".
On the bottom click "Show advanced settings"
Find and click "Manage saved passwords" links.
Select the URL relevant to your account and click the "x" mark against it.
This way you can clear the saved passwords on both Google Chrome and Firefox.