Recently I found different "Flash Player Install" threats on some websites that looks legitimate sites. This types of threat can easily make you a victim because it looks like a genuine request to a user. The one such infected site I found was a Cricket site. The people behind the threat was well aware of the popularity of the matches. Because it was the time of the recently concluded ICC 2020 world cup. Though the match was live there, there was the disturbing popup, which request to install flash player to watch the video streaming. If you are very much excited to watch the live video streaming, you may probably hit the install button and let the virus program to get installed on your PC!
The Malware will get installed on your PC with few clicks. You may even ignore the warning your AV provides as well as  by pass the Windows firewall because you are too involved. It may happen to you. I think lots of such compromised sites you can see on the web. One such virus program's name I found is "install-flashplayer__4607_i534585062_il105.exe". It will cause your browser to behave abnormally. Your browser may fail to load any sites. Here let's see how to remove such Flash Player update or Flash Player Install virus from your computer.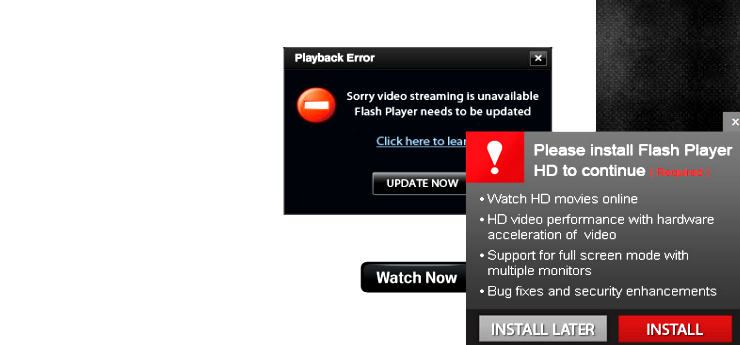 Steps:
Go to Control Panel "Add or Remove Programs" and find the virus program you just installed. If you can't find the program by name, just check the date of programs installed. You can find the latest installed programs and thus the virus. Uninstalling the program may in most cases solve your problems. But you have to do some more housekeeping. Check your browser for any unwanted installations like plugins. Different browser have different settings and we can check the popular three browsers.
Google Chrome : Go to Settings>Tools>Extensions and remove those unknown extensions.
Firefox: Click the Firebox Orange Button>Help>Trouble shooting information and click the "Reset Firefox" button there.
Internet Explorer: Go to Internet Options  or use the shortcut key Alt+X and open Internet Options dialogue box. There go the advanced tab and click the "Reset" button.
This way you can clear the threat originated from viruses you installed from the fake HD Flash Player install or Flash Player update Malware programs.