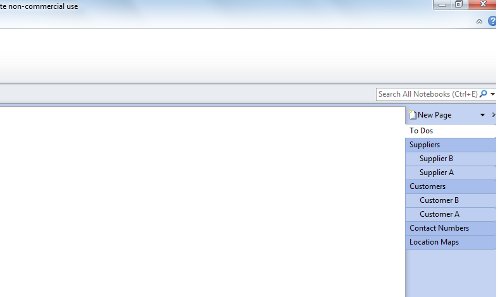 Change Your Office Work Style with Microsoft One Note. If you are not using OneNote, give it a try. It's a note taking app with great flexibility. Microsoft One Note has equal or more importance than other office productivity suites from Microsoft.
You can see Microsoft One Note comes with the Microsoft Office Pack – both student and professional edition of Microsoft Office. I know that majority of people who are using Microsoft Word, Excel and PowerPoint are ignoring One Note because they are unaware of the usefulness of One Note.
So in this helpful tips article I'm giving you few useful One Note tips. You can use this as basic One Note tips to dramatically improve or organise your office work.
If you are doing lots of paperwork in your office and use your computer frequently, you must try this. I'm sure that you are definitely going to love One Note and will become a regular user of it.
OneNote – Dramatically Change Your Office Work Style
See the below tips to know how to dramatically change your office work style with this Microsoft Office Application.
OneNote – From To Do's to Note Taking
Other than taking notes during phone calls, I'm using One Note for storing lots of information related to my business. I'm using Pages in One Note 2010 for creating categories for different products and under sub pages of them creating supplier/customer name. Before telling you how to do this in One Note or use One Note, let me explain the benefit. First see the sample screenshot below to understand this concept.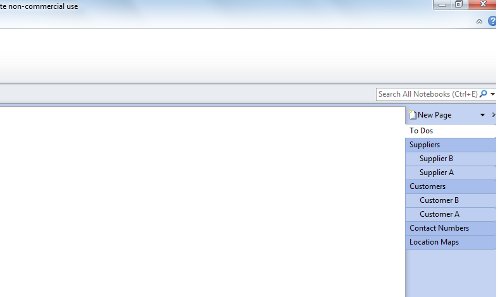 I have created pages, on the right side of the image you can see it, Suppliers, Customers, Contact Numbers, To Do's and Location Maps. Under Customers and Suppliers I have created sub pages also. Likewise we can create number of pages and sub pages for our purpose. The benefit of this is we can easily put necessary information related to each category by clicking on the tab and access it with just a mouse click other than opening several files or physical registers or notebooks.
For example if you got a quotation or inquiry from Supplier A via E-mail,  copy the mail or contact numbers etc. from the mail and paste it inside Supplier A. You can see that the copied content with a link to the copied location pasted on One Note. One Note automatically inserts links of the copied location. This helps you to easily find that particular mail at a later time by following this link.
Similarly you can take screenshots from Google Map to particular locations through One Note screen capture and paste it under Location Maps. I've created a list of my contacts in an Excel file and given the link under the tab Contact Numbers. So that later I can click that hyperlink to easily open the Excel file with contact details. That's what I'm saying that you can well organize with Microsoft One Note.
I know you may ask how to do these things. It's just simple. I'm detailing it below. You can easily learn how to use MS One Note using the below tips. Also remember. You can do lots more things using One Note. You can extract text from Images using One Note. That also I will explain in the coming few lines.
Steps to Begin with Microsoft One Note 2010
Open One Note and use shortcut key Ctrl+N to start a new Notebook.
Click My Computer and give a note name in the give filed. Then Browse for a location to store your Notebook and click Create Notebook.
Now it's easy. On the right side of the new Notebook you can see New Page. Where you can create New Pages and Sub Pages. To create Sub Page on One Note first you need to create New Page and select on the New Page and create a Sub Page. Click New Page and see the Sub Page Option. You can also drag and drop crated pages and sub pages. Click on any page or sub page to add your necessary information.
To create To Do's on One Note, on any page or sub page, just use shortcut key Ctrl+1. Try Ctrl+2, Ctrl+3…Ctrl+9 for more options.
Gradually you can learn more options by your own. First begin with these basic tips. You may ask how to link an excel file on One Note. Just simple. Go to Insert Menu and Click "Link". Just follow the instructions there. You can see Screen clipping tool and a lot more other useful tools there. You can gradually experiment with it and become a Pro user of One Note 2010.
How to Extract Only Text from Images Using One Note
Without touching OCR in One Note 2010 this article will not be complete. Microsoft Office One Note 2010 has an effective Optical Character Recognition technology. So you can very easily extract text from images. So don't worry whenever you get an image file instead of PDF and wants to copy text from it. Drag and drop the file to one note and right click on the image and select "Copy Text from Picture".
That's all. I hope I've tried to explain lots of things about using One Note in a concise manner but that equally understandable. It's because I've time constraint due to my other job assignments. So if you have any query regarding the One Note tips mentioned above, please feel free to get in touch with me. Use the contact form below.