You can save your money on buying different category items such as food using Google Offers. Google started Google Offers in January 2011 where you can find discounts for items across many categories locally. Now using the official Google Offers iPhone application you can find good deals near to you on the go. Google Offers for android is available already for a while. The same features in the android version of Google Offers is available in its iOS counterpart.
Google offers brings to you great deals (deals of the day). Google achieved this by partnering with dozens of deal sites and thousands of local businesses. With the Google Offers iPhone app, you can enjoy the convenience of browsing, buying and redeeming offers near to you on-the-go. Easily redeem your offers without having to print your vouchers.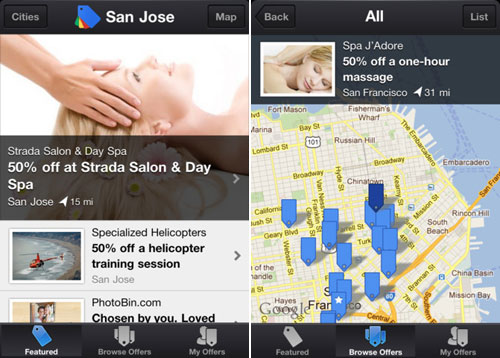 Great deal notification and offers near to you either in map or category view are some of the features of this iPhone app. For download official Google Offers iPhone application follow the below link.
Link : Download Google Offers