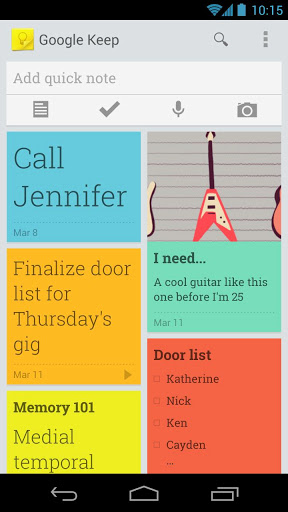 A simple, elegant, and fast responding app to keep you organized! Google has provided a new ingredient to Android users. It's none other than the Google Keep simple note taking app. It is the new entrant in the Google Play.
There are several note taking apps in the market. Microsoft OneNote and Evernote are the two popular note taking apps. You can't compare Google Keep with these two. Because Google Keep is an entirely different note taking app. Unlike the other two, Google Keep is simple and fast responding. You can online or offline enter your notes on Google Keep.
Other main advantage of this note taking app is that you can quickly access it from Google Drive cloud storage. But you need to activate the syncing on Google Keep on your android to sync the notes. That I will explain in the later part of this post. I think Google Keep has not received the attention it deserves. It was the case with Microsoft OneNote, a powerful note taking app available on our PC.
Google Keep surprised me with its fast response speed. The note you have taken with this app will instantly be accessible on the web on your computer. Also you can take voice notes which is also transcribed. Also it allows users to take photo notes with the phone camera. The interface of this new note taking app is very simple and convenient to use.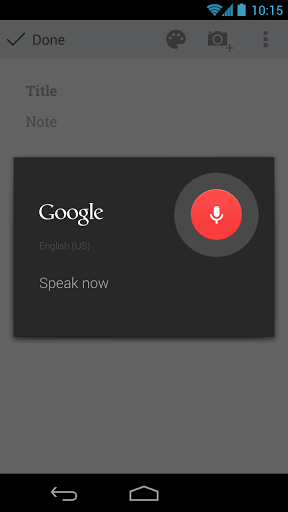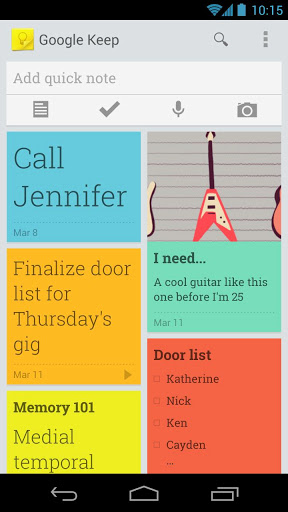 Steps to Use Google Keep
Install it from Google Play. Run the app and add your Gmail account. You can either use your existing ID that you have used for your android set up or use a new one. If you are using the existing one, tap on the Gmail address. Otherwise tap on "Create New". That's all. You can access your notes on the Google Drive. Also for Google Chrome users there is a Chrome app.
How to Enable Google Keep Sync
On Google Keep, go to "Settings" there you can see your Gmail address in use. Tap on it to enable the sync.
You can organize your notes with different colors. Finally it looks beautiful with lots of notes and get you organized. I like the colorful notes on Google Keep. Do you?