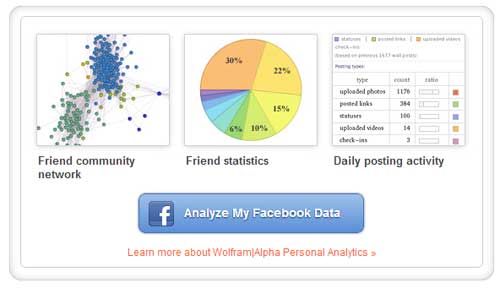 Your Facebook activity and friend report are at your fingertip. Try Wolfram Facebook Analytics. It will reveal all the hidden details related to your Facebook activity such as total number videos you have uploaded on Facebook, find total posted links, your most liked photo on Facebook, most liked profile picture, most commenters etc.
There is no any sign of decline in Facebook's popularity in the coming few years. Though there is Google+ making steady progress and growing as a Facebook alternative or more, I assume, those who are active on Facebook with a big friends' circle will not move to any other social network soon.
For those active users of Facebook, Wolfram's Facebook Analytics will provide all necessary Facebook status. If you are on Facebook, it will be interesting to view the report generated by Wolfram's knowledge engine.
Do you know how many male or female Facebook friends do you have? Wolfram|Alpha Facebook Analytics will answer such queries. As already told above it will take you through your basic details, country distribution of your friend's on Facebook, your post's statistics, your top commenters on Facebook, who tops in sharing your posts, age ranking of friends like lots of interesting information that also with supporting graphs. Further you can share any status of the generated report on social networks.
Now, the Steps to Get the Complete Facebook Status Using this Facebook Analytics
Go to http://www.wolframalpha.com/
Type "

facebook

report" and search
Sign up to create a Wolfram ID
You will get a page like the following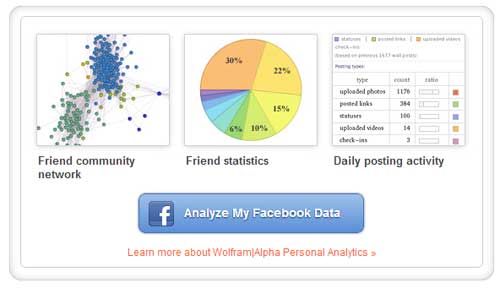 Click the button labelled "Analyze My Facebook Data". You may need to authorize the app with Facebook for the first time. That's all. Your report is ready. Each time you will be provided with fresh data.
With Wolfram|Alpha Facebook Analytics I got lots of my Facebook accounts 'hidden' (or not easy to find otherwise) status.