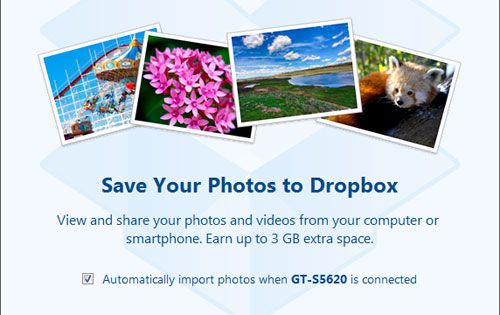 Dropbox has introduced a new cool feature to its cloud storage service. It is auto uploading of photos to Dropbox. Connect any of your device where you have stored your photos and let Dropbox auto upload it. With this service you can also grab Free 3GB Storage on Dropbox.
It's just two days left since the launch of Google Drive, a cloud storage service from search giant Google. It could make much hype because it is from Google and people expects a lot from them. But can the competitors already in this field keep silent? No! Just hours before the launch of Google Drive, Microsoft updated their own cloud storage service called Microsoft SkyDrive. They released SkyDrive apps for different platforms and provided 25 GB free storage for existing users. But what about DropBox. DropBox is one of the widely accepted cloud storage service and favored by many because of its simplicity. Dropbox also knows competition is getting tough and tough day by day and providing updates to its own service timely. Yep! DropBox is also getting much smarter. Like you people, I am also in total confusion in choosing one cloud storage service for my use. One side I've my 25GB on SkyDrive, Other side Google Drive with 5GB free storage with lots of promising features and finally my existing Dropbox account. Ultimately I've decided to go ahead with these three services and that for different purposes.
Free 3GB Storage on Dropbox
Now about the new feature in Dropbox. As mentioned above now your photos on your digital camera, phone or SD card can automatically upload to your Dropbox folder on your PC or Mac (this feature is already available in Dropbox for Android). Just plugin them to your computer and see the magic.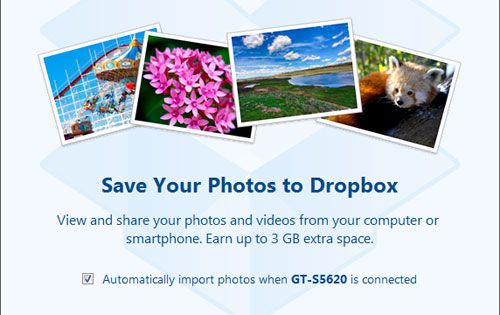 To get free 3GB additional storage and to work the latest Dropbox feature of automatic uploading of your Photos, you need the latest  version of Dropbox installed on your computer. After installing when you connect your external device you will see a popup. Just take a look at the screenshot above. Allow Dropbox to automatically upload your photos to Dropbox. The next time when the same device is connected see the magic.
How to get free 3GB storage with this feature. See what Dropbox says in this reagard.
To help you get started with the new feature, we're giving you 500 MB of free Dropbox space for every 500 MB you upload via Camera Upload, up to a total of 3 GB. All you have to do is let Camera Upload do its thing.
Is there any of your friend using Dropbox? If yes, then share this helpful tips with them.
Via : Dropbox Blog