The name of the latest version of the Android OS is familiar to all as it is the name of a popular Chocolate called KitKat. Google names its different versions of Android OS with the names of some kind of desserts. What is the rhyme or reason behind the naming of Android OS with the name of desserts? It is simple. On Google's own words "these devices make our lives so sweet". Enough! Anyway our this post is about one goody that we can find on the latest KitKat version of andorid OS – the Google Keyboard which supports gesture typing and emojis.
Android KitKat has an improved keyboard with emoji characters. This new Google Keyboard is available as a free download in the Google Play store. Other than the emoji characters, gesture typing is the highlight of this new version of android keyboard from Google. With the Android 4.4 KitKat keyboard, Google offers more faster and accurate typing across of your all android devices.
The free gesture typing enabled keyboard is available for download in the Google Play since last June. Now it's updated! Though it is the default keyboard on Google Nexus devices, for android users with other models can use this keyboard by downloading it from the store.
Gesture typing is the easiest way to type on a touch screen device. You can easily type words by sliding your finger from letter to letter. After finishing the word, release your finger. The Google KitKat keyboard is space aware. So when you make gesture typing, no need to hit the space.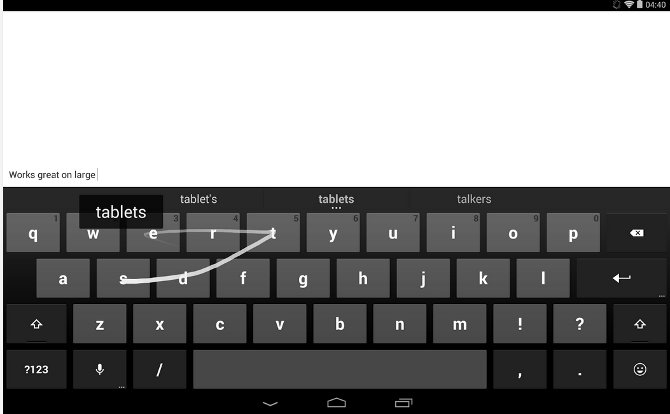 Download Android KitKat 4.4 Original Keyboard.
The above Google's original android keyboard is so intelligent as it suggests next word, completes the current words and also supports voice typing. You will get the flow of typing with the gesture enabled typing on your phone. So easy and convenient to use. Try this keyboard.
To turn the Gesture Typing off, go to;
Settings > Language & input > Keyboard & input methods > Google Keyboard.
There touch Settings > Gesture typing > Enable gesture typing.
Hope you like the new Google Keyboard.