Everybody likes to add some effects to photos before publishing it on Facebook, Twitter or any other social networks. That may be the reason Google has integrated photo editing options right on Google+. Days back famous free online image editing tool Picnik wind off their service and now part of Google+. Now back to our topic best free online photo editing tools.
If you have Photoshop, GIMP or any other image editor installed on your computer, it will be easy for you to edit your photos offline. For those who don't have any such tool installed on their computer I'm introducing to them five free and advanced online photo editing tools. Online tools has the comfort of accessing them on any computer with an internet connection. No need to depend your own PC when you want to edit your photos and upload it online.
List of Best Free Online Photo Editing Tools
FotoFlexer is one of the best free and advanced online photo editor. It has some terrific features and also easy to use. There are lots of effects to choose from to make your photos even richer. Features like auto fix, red eye, crop, resize, rotate, contrast, morph, live effects, animations, layers like all necessary tools are there. All instantly get applied and you can even undo your action with a click. Pick any photos from your computer and edit it online. I like the morphing feature in FotoFlexer very much. Also it is very simple to use with all features arranged in an easy to accessible way.
If you are looking for a Photoshop like photo editing tool online, Pixlr is the answer. It's one among the best free photo editing tools. Pixlr is one of the top rating online photo editing tool. It has a UI similar to Photoshop. You can not only edit your photos online but also create new images using Pixlr. It uploads photos instantly and apply effects, filters whatever editing options you choose immediately just like offline photo editors. It's feature packed and offers functions similar to Photoshop/Gimp. You can also integrate Pixlr web app to your Google Cloud Drive. So you can edit your cloud stored photos online. If you only need some retro vintage effects to your photos try their Retro vintage effects tool for this purpose. It's majestic.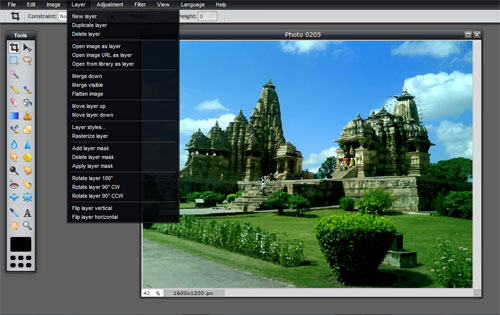 Sumo Paint is another worth to check tool. Just like Pixlr it's also menu driven. It resembles and offers Photoshop similar tools and experience online. Clone stamp, Magic Wand, color picker, filters, layers everything are there. I think it is similar to Pixlr and many people like Sumo Paint and choose it whenever they need online photo editing. I'm sure you will also like it.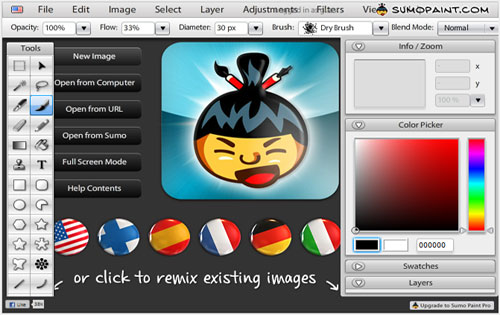 Photoshop Express Editor is Adobe's online photo editing solution. It has a different UI compared to Adobe Photoshop. No doubt one will fall in love with this cool web application. Adobe has added some carefully selected features to this free online photo editing tool. Some necessary editing, adjustment and decoration tools are added. The interface is really cool and works fine. With minimal effort you can make your photos more beautiful using this free photo editor.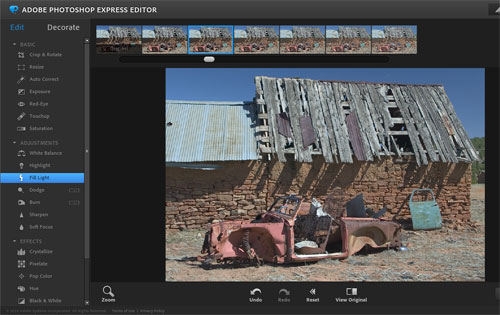 I like the menu driven clutter free interface of Aviary Phoenix. It has all the features to make your photos shining online. Layers, filters, image resize, canvas resize, magic wand, free form selection like all necessary tools are available in Aviary Phoenix. This is also one of the advanced online photo editing tool that available for free.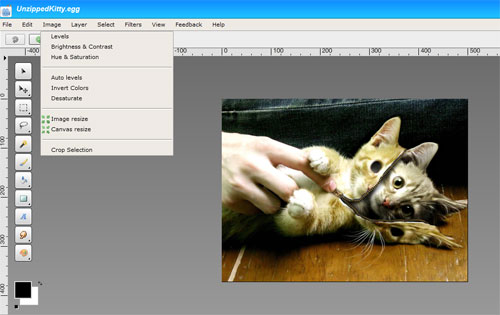 Hope the above list will satisfy your photo editing needs. There are more awesome free photo editing tools online.
I like to hear from you which is your favourite among the above five. Share and enjoy.