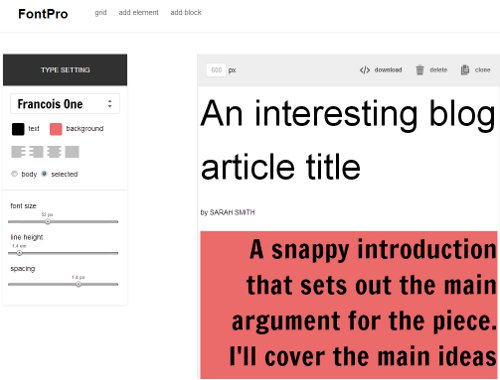 If you are looking for some awesome fonts for your new project, I can give you a simple solution. Do not need to go here and there to locate the font that suits your needs. Even if you find some fonts for your purpose it may be paid one. Go to FontPro. There you can check typeface and download all the fonts you have tested for free. The homepage of this site indicate that their features are free for now! Later they may opt paid mode.
FontPro is not merely for downloading your favorite fonts. You can find, preview and also experiment with different font face. There you can download all the fonts you have tested at a click of a button.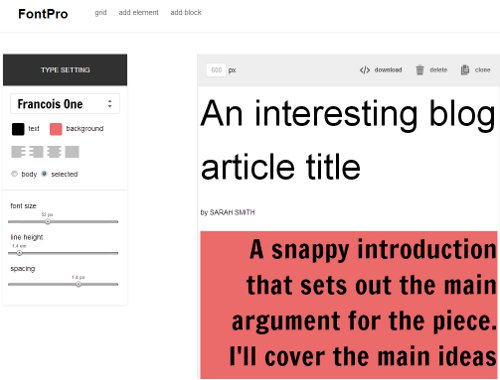 Process
Go to FontPro and sign up with your email id. Its free now.
Then sign in.
Click on "Try it Now"
You can start testing font face by clicking any of the available options on the top, i.e., "Sample Blog Post", "Side by Side", or "Blank Canvas"
Choose "Sample Blog Post"
Under "Type Setting", which you can drag to any convenient place on the screen, click on "Pick a font"
There you can see "Staff Picked", "Collection" & "Local"
The first two are now blank. Under the "Local" you can see all the locally installed fonts.
Click "next" to see the other available font selection options.
There under "Google" you can see some beautiful fonts.
Now click any paragraph block on your "Sample blog post",  the sample paragraphs on FontPro.
Apply any font. On the next Paragraph you can apply another font.
If you are satisfied close the "font selection window" by clicking the "x" button.
Now "Type Setting" is visible and you can experiment with font color, line height, font size etc. under it.
Once you have finished with fonts, just click on the "download" button. The download will be in .zip format. Unzip the file and you can see all the used fonts there. You can install these fonts on your PC.
Like amass some beautiful fonts on your PC quickly as it is completely free now.