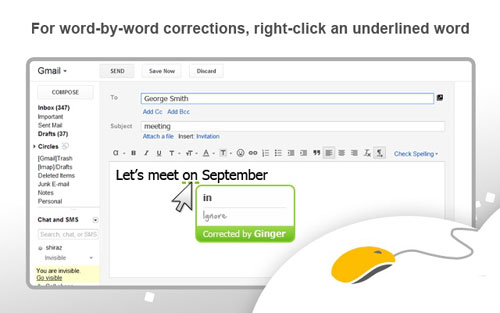 Hi friends. I'm going to share a great free spelling and grammar checking extension for Chrome users. It's from Ginger. It will help you to correct typo and grammar mistakes and make your email or blog posts clean.
Many of us unintentionally make typographical errors and grammar mistakes in our digital life. While you are preparing blog posts or composing an email you may often commit few unwanted errors. Often you can rectify the errors immediately if you do proof reading. But sometimes some errors may conceal your eyes. If you're a native English speaker you may not make grammar mistakes. But typographical errors are unavoidable. So for Chrome users I am sharing a great extension. Ginger is providing one of the world's best spelling and grammar checker for Chrome users.
Correct typo and grammar mistakes with a Chrome Plugin
Link : Ginger Spell and Grammar Checker for Chrome
Update: Lots of apps switch to paid version after few months free offering. Ginger is not free now. So try Grammarly if you are looking for a free alternative spell checker on Chrome.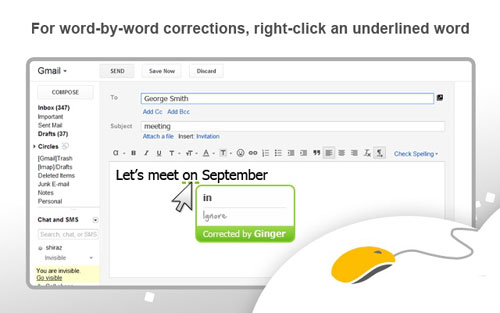 Install the extension from the above link for free and forget about spelling and grammar mistakes. Now you are only one step away from avoiding grammar and spelling mistakes while typing. Ginger shows a green dotted line below texts with errors. You can right click on the text underlined to correct spelling or grammar mistakes. Ginger shows suggestions so brilliantly.
I find this Chrome extension from Ginger, the world's #1 contextual grammar and spell checker, very useful. It helps users to avoid spelling and grammar mistakes within Gmail, Hotmail, Yahoo! Mail, Google+, blogging platforms (such as WordPress, Blogspot, LiveJournal) and any other applications using Rich Text Input.
Share this great tool with your friends. Ginger for Chrome is one of the must to use Chrome extensions if you do blogging or send lots of emails.