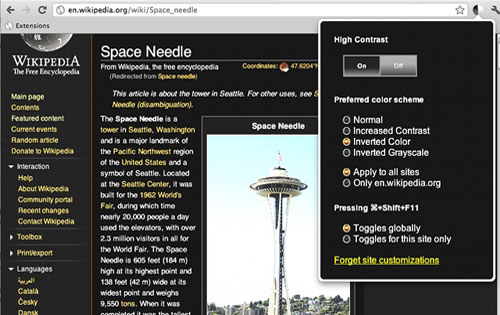 It's quite easy to change background colour of Web Pages on Chrome. Some of your favourite websites may have poor colour scheme or the font colour contrast is too low that make these sites difficult to read. But the overall look of the sites may be better. But when we think about reading we feel some difficulty. Right? The reason, the webmasters of such sites may have chosen a good colour combination for their sites that may be better on a big screen.
When you feel difficulty in reading any web pages, you can dramatically change it on Google Chrome. Google Accessibility team has released an extension for this purpose. It's called High Contrast.
How to Change Background Colour of Web Pages?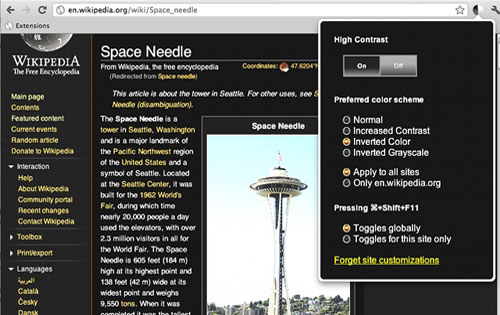 Use the plugin High Contrast, the link posted at the end of this page. It offers several high-contrast colour filters that make your reading pretty easy. Once enabled you can apply filters to web pages by shortcut keys Shift+F12 or disable it by pressing Shift+F11.
Normal, Increased Contrast, Grayscale, Inverted Color and Inverted Grayscale are the color schemes offered by this app. Click on the extension icon on the toolbar to access any of the filters. It dramatically changes the color of the web pages. For example, if you find problems with reading light colored fonts apply filter Increased Contrast. It sharpen the font and make reading easy.
Anyhow this extension will not affect Chrome New Tab, Chrome Web Store, Settings Page etc. I tested this extension of many web pages and found working without any issue.
Also note. Once you applied any of the filters, immediately it will be applied to all opened tabs. The app page on Chrome Web Page Says it will "applies filters to your page that invert almost everything – the only exception is photos, which are left alone." But I found that it also invert image colors on some web pages.
Hope you liked this post. Also if you liked the extension share it with your friends.
Download : High Contrast for Chrome