In the realm of amazing number of useful android apps, sometimes some apps may not come in to our immediate attention. So for those who are missing an awesome memory booster app, here meet Clean Master. It is the best memory booster app for android smartphone. Other than its reputed cleaning technology, on a rooted phone, Clean Master works like a charm to delete system apps.
There are lots of system apps on your android phone that you may never pay attention. You can delete these bloatwares with Clean Master. But be careful and don't remove any system apps that need your phone to function.
Clean Master android memory booster app boosts your phone memory in several ways. So you can trust this app to increase the performance of your phone. The main features of this top free memory booster app are as follows. I just give you the features in a nutshell as it is that much simple.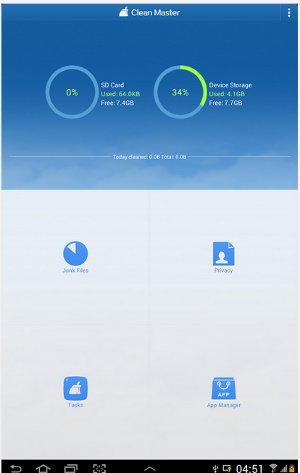 Android Junk File Cleaner – All we install lots of apps and removes many of them after sometime. But during the uninstallation of apps, lots of data left on your phone. These junk files slowdown your android phone. Clean Master will completely remove the Junk files and helps your android phone to run smoothly.
Android Privacy Enhancer – Protect your privacy by clearing personal information such as browsing history and SMS records.
Android Memory Booster – Clean Master is a powerful memory booster. It scan for memory consuming apps and kills it and thus boost the phone memory. Press and hold the Memory Boost button on the home screen of the app to add a one tap boost widget to your home screen of the phone.
Android App Manager – For a rooted phone you can remove the pre-installed android bloatware. The app manager section in Clean Master helps you remove downloaded as well as system apps in a flash.
Conclusion : Clean Master is surely the very best android performance improvement app. It has 20 million users and also top rated in the Google Play android market by satisfied users. It's free and the interface is quickly adoptable.