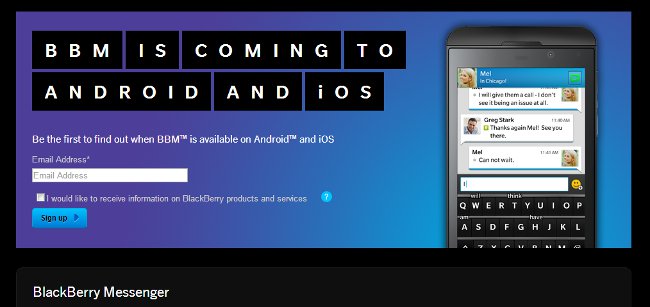 BlackBerry Messenger aka BBM is a popular messaging service on BlackBerry mobile devices. It has more than 60 million monthly active users. BlackBerry is the owner of this instant internet based messaging service. There are millions who got addicted to their messaging service. Many buys BlackBerry mobile phone to use this popular messenger. Now the official BBM chat app is coming to android and iOS this summer.
BlackBerry messaging is very popular allover the world. But the users of the most popular mobile OS, Android and iOS, can also use BBM soon. This is subject to the app approval from respective app market. A blog post from BlackBerry confirms. But no word about the availability of BBM on other popular mobile OS Windows Phone 8. What are the features BBM offers on Android and iOS?
The immediacy of BBM chats
Multi-person chats
Voice note sharing
BlackBerry Groups, where BBM users are able to set up groups of up to 30 people and share calendar, photos, files and more
The above are the basic features BlackBerry is expecting to bring for Android as well as iPhone users. Hope BBM will able to provide you the super fast messaging experience on your smartphone. The availability of BBM on all popular smartphones will make BBM fans to connect with their entire mobile social network.
Wait for the download link to official BBM app for android and iOS. If you want to know when BBM will be available for your smartphone, just go to this link and enter your email address to register.
Source : BlackBerry Blog