First of all let me clear that there is no official twitter metro app for Windows 8 available now. The followers of this popular social networking (micro) site can depend two beautiful twitter social networking metro apps on Windows 8. The apps tweetro and FlipToast are good twitter apps available in the Windows store for download. Download the apps and pick the one that attracts you as both of the apps are worth to try and basically functioning similarly. Of course there are some changes in the visual appearance of these apps. Further FlipToast has one advantage over tweetro. On FlipToast you can set up your Facebook account also.
To download the app, assume you may already know it, go to Windows Store and search on the Charms Bar using the keywords "tweetro" or "fliptoast".
FlipToast
No doubt it's one of the best social networking app for Windows 8. Install the app as mentioned above and add your twitter account. You can see today's posts, notifications, and messages in beautiful Windows 8 metro interface. Click on any tweet to see the "about" section. From this view by enabling app command bar (by right clicking on the tweet or using Windows 8 keyboard shortcut Win + Z) you can follow, retweet the tweet, add it to favorite, and open any external links on the tweet on your default browser. Also the photo viewer is truly awesome. You can swipe through photos in tweets all in one place. You can post updates and post photos to twitter from the command bar on FlipToast.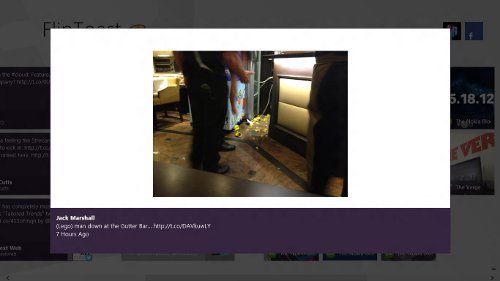 Tweetro
It's another best free twitter metro app for Windows 8 that comes with FlipToast similar feature. The interface is slightly different. Timeline, option to tweet and photos are provided in the front screen. The photo album is relatively better in FlipToast as here you can see photos side by side only. But you can see the photos in full screen mode by clicking on it on tweetro. You can easily access @mentions, messages, favourites and lists from the front screen of tweetro. Here to get retweet, reply, quote and favorite options, click on any tweet. You can see the options on the tweet itself and also the tweet will be shown separately. Under the highlighted tweet you can see the number of retweets and profile images below it (of who retweeted). If there any links included in the tweet to external websites it will instantly open on the far right end (within tweetro) of the screen instead of opening it on your default Windows 8 browser on a separate window. Tweetro scores here.