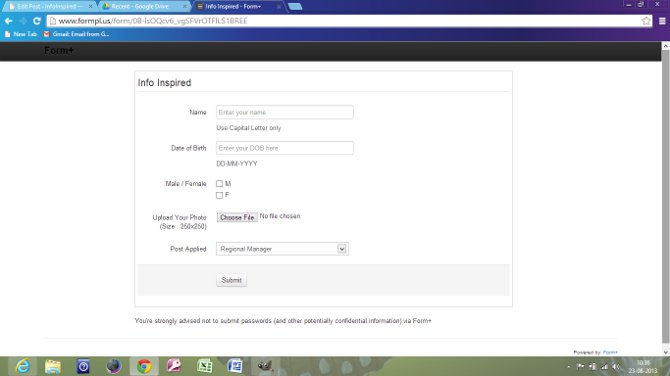 This is an ultimate tutorial for creating an advanced online form. Before coming to the tutorial few aspects about online forms. Because it is widely being used everywhere. But we are not seeing it!
Forms are essential part of our life. It follows us from our childhood. Remember! To get an admission for you to your preschool, your parents may have filled application forms. Similarly for several government purposes also we are required to fill forms.
Forms are preconfigured to collect data or information in a required and systematic manner. This is the era of digital forms. Digital forms are replacing print media. Digital forms do the same tasks in a different way. It is widely being used but we are not familiar. You may not familiar with it because on many occasions the forms are filled on behalf of you by the representative of the institutions or companies where you apply.
Now a days people are more internet savvy. So companies, educational institutions, people conducting surveys etc. take a different approach to collect data from applicants / people. They place their forms on their website. So anyone can fill it online.
Online forms have many advantages. It's green. It saves paper thus tree. Also the data collected through online forms are easy to analyse based on the criteria set.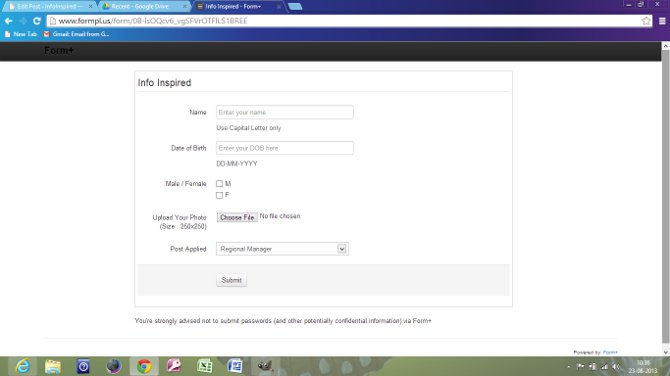 This is a complete tutorial to create a vivid online form useful for corporates, educational institutions, bloggers like people in different fields. Create a powerful survey form, application form etc. online using the power of Google Docs. This tutorial covers the all details required for creating a multi purpose, powerful online form for free. Anyone can follow this tutorial easily.
The forms created by following our this ultimate tutorial would be an advanced one. You can limit the number of form submits, deadline to your form and enable email notifications on the event of a form submission etc. Also the forms created by following this ultimate online form creation tutorial can be shared in many ways. Embed it on blogs, websites, directly share the links on twitter, facebook or Google Plus. Also you can copy the links and share directly via email.
The applicants or participants can open the link in a new page on their browser and fill the online form you prepared. When they click the submit button, the data they entered got stored on your file in Google Drive. All the data filled on the form by different people accumulated on a single spreadsheet line by line. So you can quickly analyse it.
Steps to Create a Stylish Online Form on Google Drive Using a Chrome App
This tip is applicable to Google Chrome users
Install a free Chrome Plugin called Form+. After installing it, you can access it from Chrome new tab. Ctrl+T is the Shortcut key for this. Now we are well set to create an online form.
Under the builder tab click on "Untitled Form" to name it.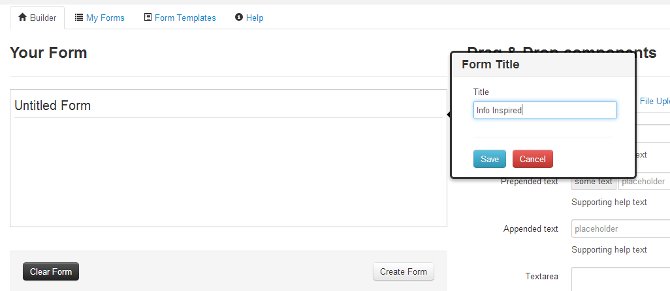 Now on the right side under "Drag and Drop Components" drag input fields on to your form. Drag any components as your form requirement and place it under "Untitled Form" box. Remember now you have named your untitled online form. In this case under "Info Inspired". Here I've dragged a text input component from the right and placed it under "Info Inspired". Now click the newly placed field to edit.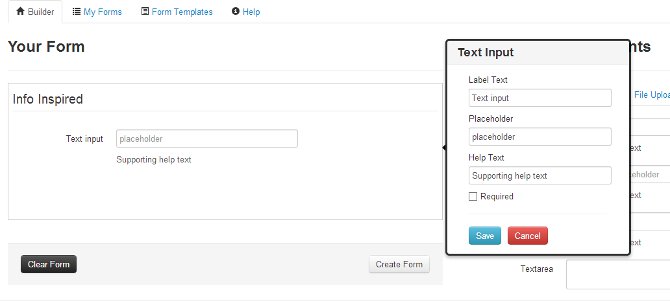 I have made the editing like this.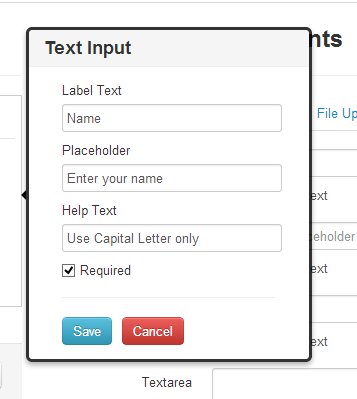 And the result would be as below.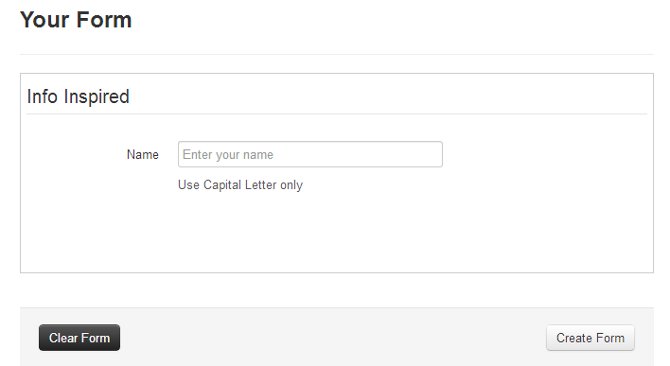 Similarly add as much fields as you wish to your newly creating online form. If you want to remove any field just drag it out side the form box and release the mouse button. You have to correctly point your mouse on the filed to drag it outside.
Carefully go through the "Drag and Drop Components" section. It even allows you to create an advanced online form with file upload option. That means the forms whom with you have shared can even upload files on the form. This allows applicants to upload their photo on to the form.
See the sample form created as above using Form+ on Google Drive.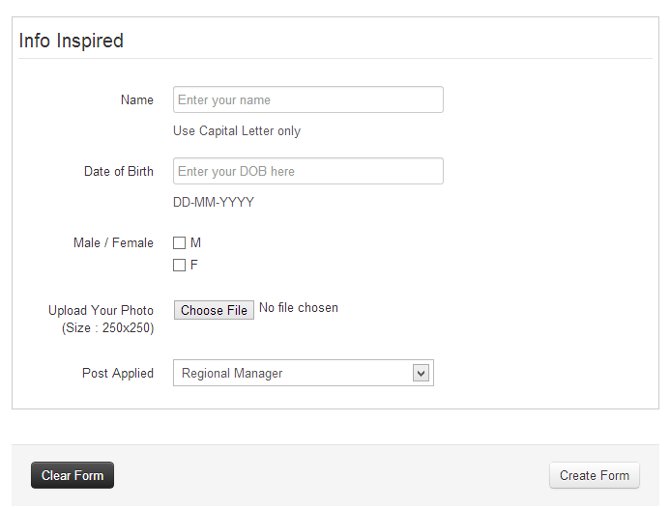 Now click "Create Form".
On the top of the page you can see some useful options. You can put submission deadline to your forms. It is useful when you are crating a job application form. Also you can limit the number of entry. It is useful for forms created for contest purposes where first xx entry will get the gift.
How to share your created form?
Just now you have created a vivid online form with advanced options! Now you have to share it.
On the right you can see share options as below. It is useful for all types of people. Share on social networks, copy the links and share the form via email, blogs or websites, embed on your website or blog and also popup. The share options are truly awesome!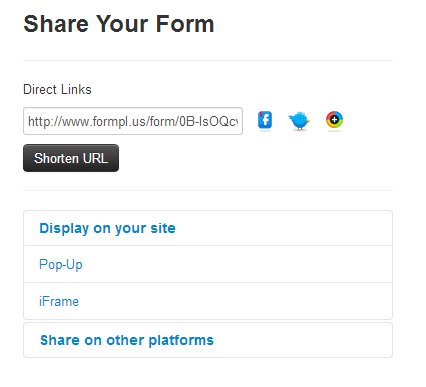 How to access the form submitted data?
We have completed creating online form and share it. Now we want to check the date filled by applicants or our form users. For that  log in to your Google Drive account using your Gmail (Google Account) address and password.
Click on Create>Forms. It will open the Form+ app. Here you can see all your created online multi purpose forms under "My Forms" tab. Click the form to edit it and also to see the submission.
Create forms and improve your productivity. Any doubt in creating forms? Please feel free to post in comments below.