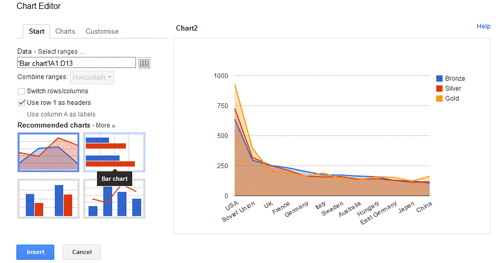 Earlier we have posted a complete tutorial about creating line chart in Google Doc Spreadsheet. Now in this post we can learn how to quickly create a bar chart or bar graph in Google Doc Spreadsheet.
While creating a chart or graph first we should know or study the data we want to visualise. Then only we can decide which chart we can use. You must know where to use a line chart /bar chart / Pie chart (of course there are other chart types). Different charts serve different purposes.
Link : How to Create a Line Chart or Line Graph in Google Doc Spreadsheet
In our (above) earlier tutorial, regarding preparing line chart in Google Doc Spreadsheet, we clearly mentioned what a line chart represents. It's for presenting multiple continuous data sets (follow the above tutorial for more info.). For example you can use a line chart to show the progress of your different business over a continuous period of time or two teams' progress from start to end of the match in a limited over cricket match like similar situations.
On the contrary a bar chart can be used to show comparison of different data sets. Once again take the example of any two business owned by you (just assume). You can perfectly compare your two business using a bar chart not a line chart. Though you can create a bar chart and line chart from the same set of data in most cases, only a line chart clearly shows the continuous progress on the other hand a bar chart shows only the comparison. If you get confusing don't worry. The below tutorial will clear off your doubts.
Helpful Tips: Know about all the charts available and how to select a proper one
Now tips to create a Bar chart or Bar graph in Google Doc Spreadsheet
Sign in to Google Drive with your Google Account.
Use the following template which shows the medal tally of different countries in Olympic event (sample data).
We need to delete the existing chart in the template. To do that click anywhere on the chart and locate the down arrow mark. Click on it and from the dropdown menu delete the chart as we have to learn how to create a new bar chart in Google Doc.
Now select the entire data. To select go to the first cell (A1), press and hold the Shift key and use down / right arrow keys to move to the last cell (D13).
Now Go to "Insert" menu and choose "Chart".
On the Chart Editor click Bar Chart. Your chart is 99% ready. Now the customization part is only left.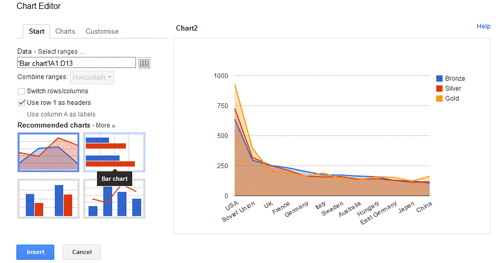 Go to Customization tab on the Chart Editor.
Title : Here I've given as title "Olympic Medal Achievement" and changed the font color and size (request you to find it on the finished chart below as it will clear your doubts)
Next choose the Legend position, color, font size etc. By default the legend is placed on the right hand side of the chart. I've placed it bottom.
At this point, if you want you can change the background color too.
Now you can optionally choose "Features". Make tick mark against each features and instantly see the changes in the preview. I set it as default in the example.
I've given Axis Titles. For horizontal Axis provided the name "Total Medal" and for Vertical Axis provided the name "Participants"
There are more customization options. But we can stop here as it will now look a perfect chart. See the finished chart below.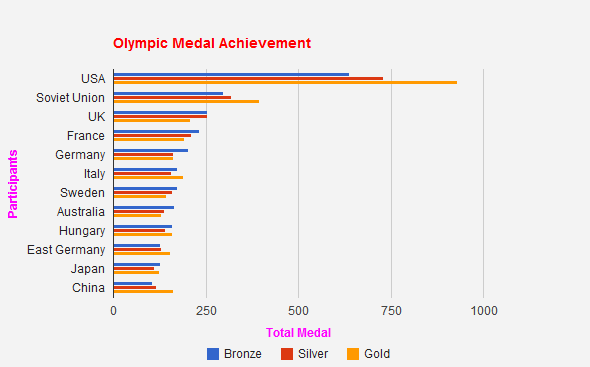 One important point. Next time when you create a bar chart or bar graph in Google Doc Spreadsheet you should follow the way data produced in the above sample template. That means keep in mind how column labels and row headings are provided. That is very important. If you understand this basic thing then Chart creation is just child's play.