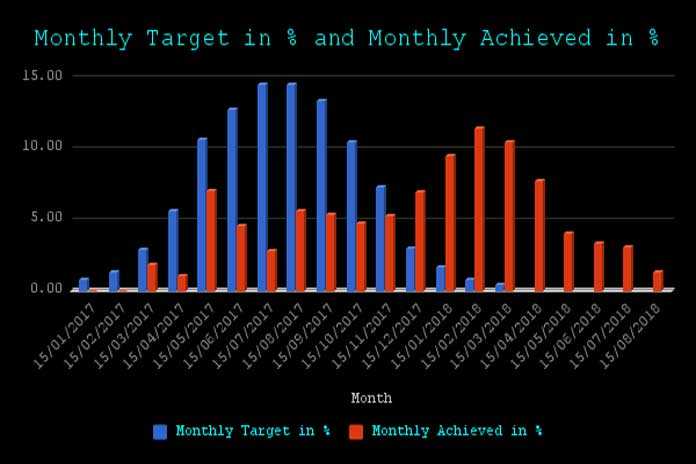 Column Chart is actually a vertical Bar Chart. So we can create Column Chart in Google Sheets similar to Bar Chart.
The purpose of a column chart is to compare one or more categories or data set over a period. Here over a period is optional though you can compare over the period also. I am following this tutorial with an over the period comparison.
Here I'm not going to compare any two products based on its features or any thing that type. Here I'm following a different approach. I'm going to create a Column Chart in Google Sheets to Compare a Job Progress.
When you want to compare multiple categories, the best way is to use a RADAR chart. But the readability level is far better in Column Chart though multiple categories can make the chart cluttered.
You can make a RADAR chart in Google Sheets using the below job progress data. But never suggested or nobody follows as Column Chart is simple to read and very effective with little categories.
Steps to Create Column Chart in Google Sheets
Sample Data:
Here I'm using the sample data which we have used earlier to create an S Curve in Google Sheets. The difference, there we've used cumulative data, but here monthly data.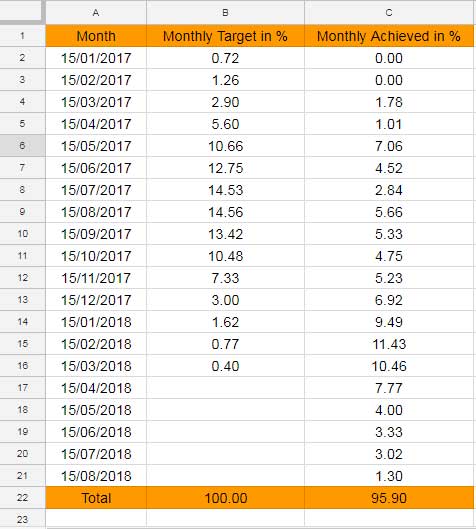 First you should understand the above data set, then we can proceed to chart creation.
Imagine we've been awarded a job. I am not mentioning any job name here. As per the Job order or Work order, we should complete the job within 15 months that starting from 15/01/2017 to 15/03/2018. As a standard procedure, we've calculated the total job as 100% and distributed the percentage to each months. The data you can see in Column B.
In column C, we are showing what percentage we could complete against the scheduled percentage in Column B. From the sample data, you can clearly understand that we could not complete the job within scheduled 15 months and we are lagging far behind.
We can use a Bar chart to visualise this. To Do this select the data in range A1:C21.
Go to Insert Menu, and Click Chart.
From the Chart Editor, Select Chart Type Column.
Your chart is ready. But you may be required some customisation to make the chart perfect.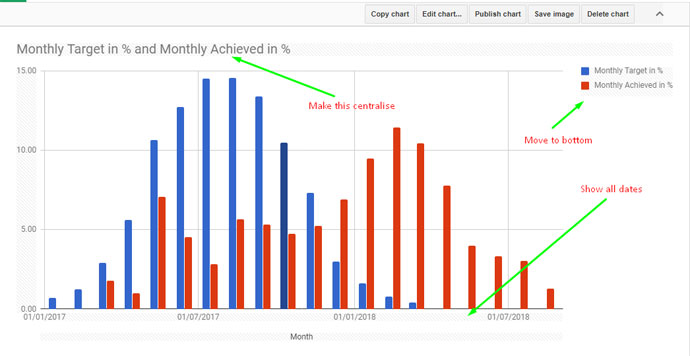 I've marked the necessary Column Chart customization on the above image.
1. Show all dates in Horizontal Axis of the Column Chart.
Chart Editor > Customize Tab > Enable "Treat Labels as Text" under Horizontal Axis Label.
2. Move Legend to Bottom.
Chart Editor > Customize Tab > Under Legend Change Position to Bottom.
3. Align Chart Title.
Chart Editor > Customize Tab > Under Chart & Axis Title Select Title and look for Title Format and make the changes.
Additionally you can make this Google Sheets Column Chart 3D and also change the background colour from white to any other colour. These settings are also available under the customization tab, Chart Style. Hope you have enjoyed our step by step guide to Create Column Chart in Google Sheets.