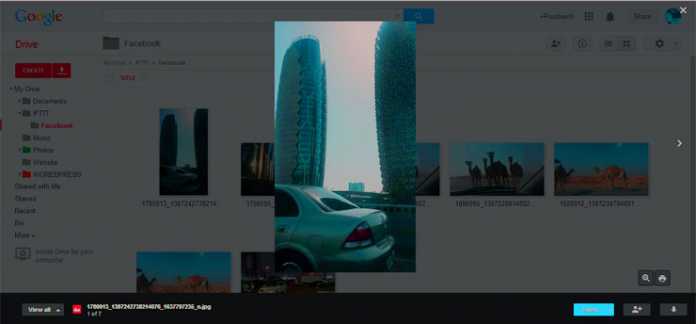 Hi guys! Ever thought of backing up your Facebook photos? Then read this tutorial. Here is a simple solution to back up your Facebook photos to the cloud. We can use a free service called IFTTT, short for if this then that, to set auto back up to your newly uploaded photos to Google Drive in the background. It's simple and only one time set up is required. You connect your Google Drive and Facebook using IFTTT. Now onward, whenever you upload a photo to Facebook, it will automatically back up your uploaded photos to Google drive inside a folder IFTTT. No need to open either Google Drive, or IFTTT again to start the backup.
Similar Interesting Article: How to Edit Google Drive Stored Photos in Google Plus
So if you are interested, just follow the tutorial below. It will guide you to set an auto backup feature to Facebook.
Steps:
First open Facebook and Google Drive on different tabs on your browser and sign in to it. Now on a new tab, go to IFTTT.com.
Sign up for a free account there.
The home screen will look like as below. There click "Channels"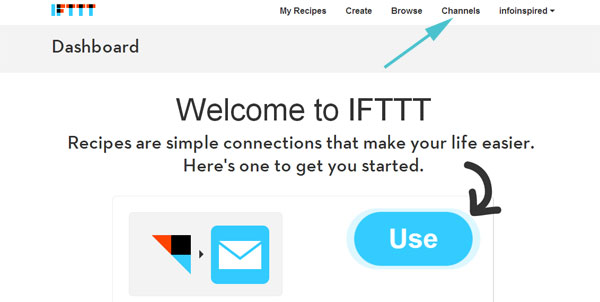 Then select Google Drive and activate it. You may be asked to give permission to IFTTT to access your Google Drive account. Give the necessary permissions.
Now go to the bottom and click the recipes saying "Save all the photos that I upload on Facebook to Google Drive"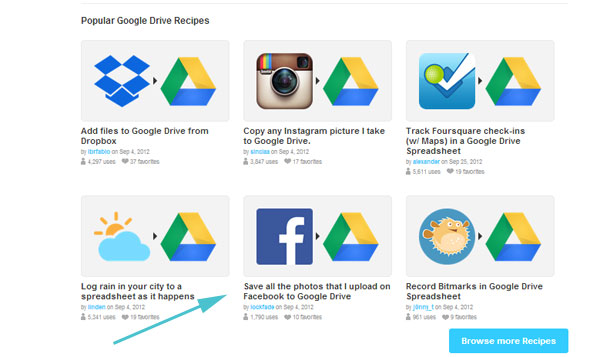 You would now see the activate "Facebook" option. Activate "Facebook". Click the relevant button and allow IFTTT to access your Facebook account. Here also give IFTTT the necessary permissions.
Click "Use Recipe". That's all. You can now logout IFTTT and even Goole Drive. Upload a photo on to your Facebook account and check your Google Drive account after a while. You can see your photo backed up!